Stuffed Animals
Look! Two stuffed animals!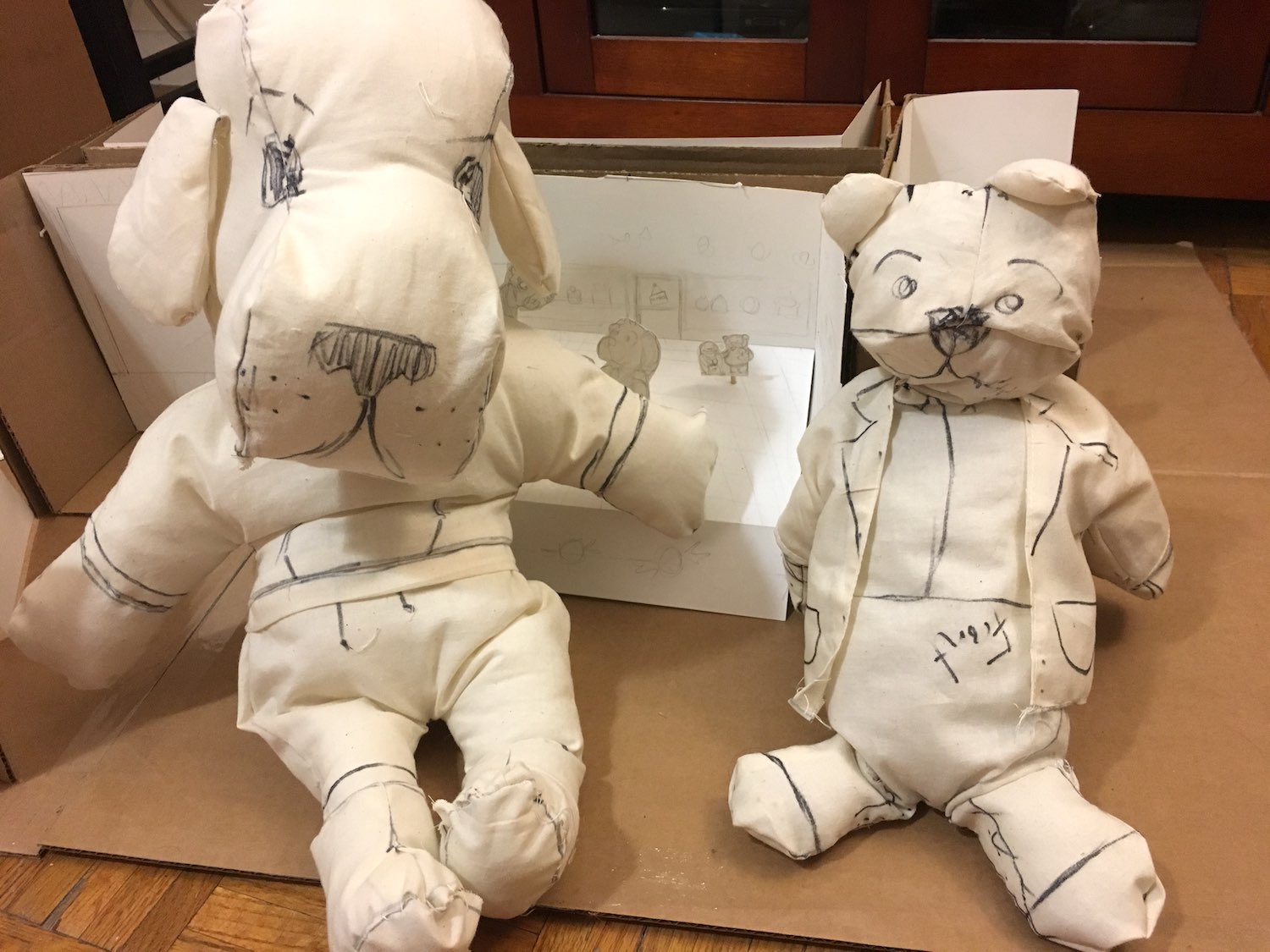 This is the bear from the bakery and the first test of Percy, the main character. The bear is wearing a little suit and Percy is in a fashionable athleisure ensemble. There was one miserable attempt to create a stuffed animal that is not pictured; the bear was the second attempt, and Percy is the third.
The bear is at actual size for the scene it's in. You can see its scale-model representation in the background of this photo. Percy will be much larger (about four feet tall!) and I want to take a couple passes at a smaller version of him before I commit to the big one. The most exciting part of this process is that, once I'm happy with a small figure, making a bigger one should be a fairly rote process in which I enlarge the pattern and then sew the new pieces together.
The bear took about 3 hours to make and Percy took about 5. This included making a pattern and cutting the pattern out and sewing all the pieces together and stuffing the figure. I expect these things to get faster as I get used to my sewing machine and, like, start planning ahead to avoid making parts that I'll have to stitch by hand. I've never really made patterns before! It's a weird and exciting mental exercise. (Thanks to Nozlee for some really helpful and adorable reference material!)
I'm not happy with Percy's snout—he's supposed to be a retriever but right now he looks like Snoopy. I've also decided that rather than making the characters' clothes into their "skin," I'm going to make simpler body shapes and lay clothes over them. This will help me get some more natural draping and make it easier to hide any dubious stitching or filling. The biggest characters will just be too big for polyfill (the usual stuffing that goes in stuffed animals), so I'm planning to buy packing peanuts, which easily take up a lot of space but are also lumpy. Having extra layers between the fill and the clothing will help the look a lot.
As a reminder, the final characters will probably be made from this same muslin, then primed and painted, although if I'm feeling ambitious I may try making some of their clothes out of "real" fabric. A tiny hoodie made from sweatshirt material sounds…too cute, but painting also means I get a second chance to conceal some dubious seams. Since it's so small and way in the background, I think the bear you see in this photo will probably make it into the show!
There are something like 12 unique designs and 30 total characters in this show. Sewing is proceeding nicely but rather than just sew forever, I'd like to bring the bakery scene all the way to the finish line: design and create all the characters and their props and assembed the backdrop and paint everything and stage it and light it. That's the next milestone, and I hope to show it to you soon! I'm still thinking that we're going to celebrate Bobby's Birthday this Summer!