Notes on the Orlando Theme Parks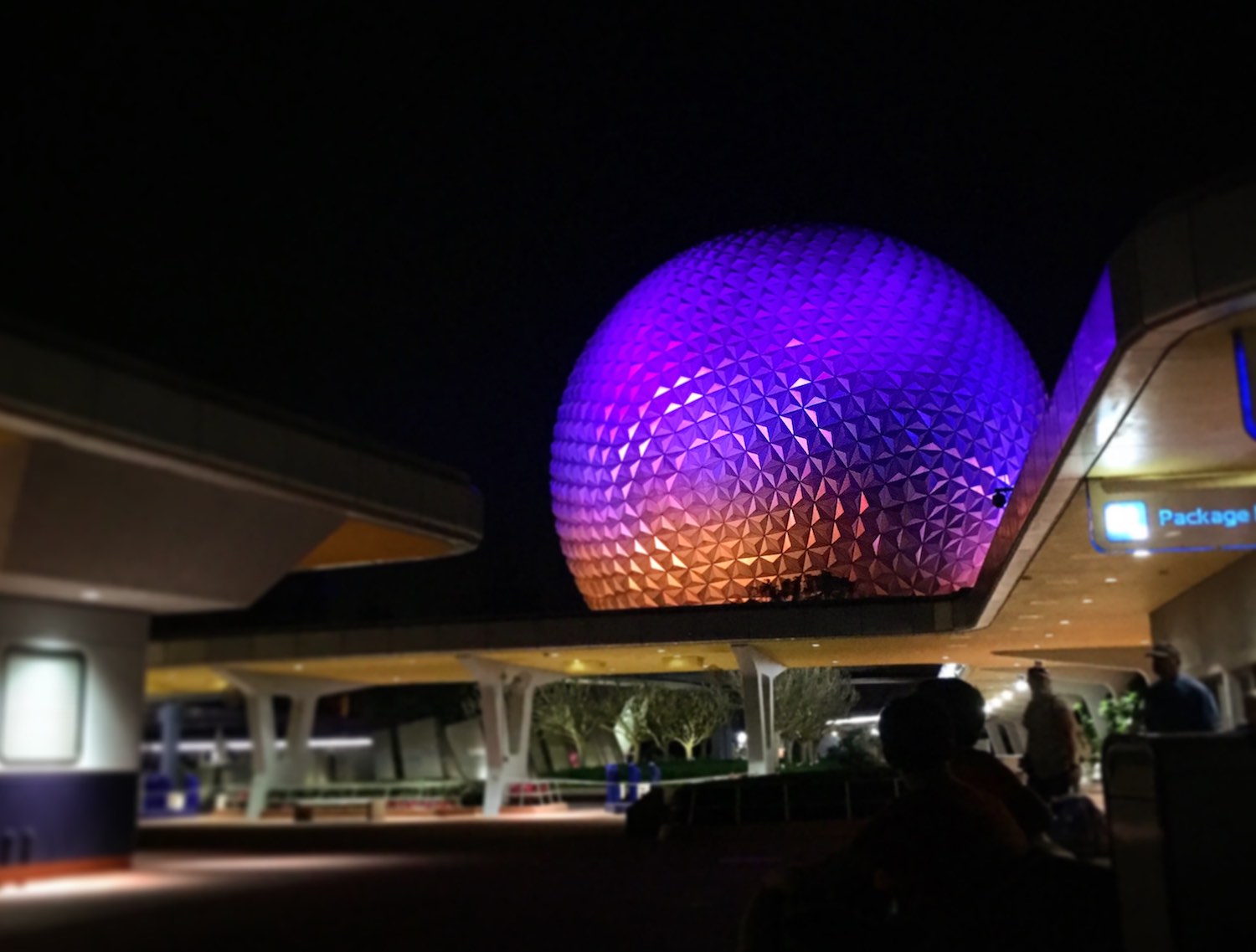 Greetings from Disney Springs! The sun is shining and the WiFi is strong enough. I haven't worked on anything tangible for the show this week because I've been on vacation in Orlando. That said, this week has been a revelation and I've got lots of disorganized notes for you.
We spent one day at the Universal parks, one day at Magic Kingdom, and then I took two solo days for Hollywood Studios, EPCOT, and Animal Kingdom. This was my first time at Walt Disney World in 12 years, and my first trip to a Universal theme park ever.
Harry Potter
The Harry Potter lands (Hogsmeade/Hogwarts and Diagon/Knockturn Alley) are as good as you've heard, and I understand why they made Disney sweat. This is, to my knowledge, the most thoughtfully detailed themed-design production ever created…which doesn't feature Hidden Mickeys. The scale is perfect, and even though I think we saw every shop and rode almost every ride, it feels like I could spend another two days there just looking at everything. (This feeling reminds me of modern casino design, which encourages guests to keep walking and exploring, because they're more likely to keep gambling that way.)
Wands
We bought interactive wands at Ollivander's, which have an infrared LED in the tip which can signal specific patterns to half a dozen sensors throughout the two lands, mostly in shop windows. It's a cute idea, but it felt restrained, and the tech was way too sensitive for popular use. It took me about ten attempts, advice from a cast member, and background knowledge of the technology involved to finally start casting spells consistently. I'd love to see this go farther, and maybe get incorporated into some attractions; more interaction is never a bad thing.
Booze
Universal sells alcohol all over the place, which is new to me. It turns out that the WDW parks do too! The Disneyland Resort, as far as I know, still limits its alcohol to a select few locations and special events, and doesn't offer hard beverages in any of the general areas of Disneyland proper (just Club 33, which is effectively private). There were full bars all over WDW, and I had a terrific rum cocktail in Africa. Being buzzed in a theme park is really fun.
Queues
Something else WDW does way better than Disneyland is queue design. Our very first stop at Magic Kingdom was Peter Pan's Flight, which is roughly identical to the ride of the same name in Anaheim, except for the queue. We waited to ride in a full-scale replica of the kids' nursery, complete with an occasional appearance from Tinkerbell, who would rattle drawers and knock picture frames askew. On the West coast, the queue is just a long switchback line in front of the loading area. The Florida project has the blessing of almost limitless space, so there's an opportunity to do things like this that are just impossible in the original park, but when it's possible to slowly and completely introduce your guests into the experience like this, the results can be profound.
The entire Walt Disney World property is, itself, a deliberate slow transition from the "real world" to a world of fantasy. Most of the land is still swampy forest, so even if you're driving in, you'll eventually forget about what lies outside the perimeter (Disneyland can't use space for this but does include an earthen berm to block third-party sightlines). And there's no parking lot at Magic Kingdom, for example; to get to that park, you either must ride a monorail or a ferry, both of which offer a controlled, meditative approach toward Cinderella's Castle. It's good to remember that the "preshow" isn't always a show; sometimes it's just place-setting.
Fantasyland
MK's Fantasyland was totally rebuilt since the last time I visited this park, and I have to admit that I didn't really like it. I'm comparing it to Disneyland, which is probably unfair…like with the elaborate queues, WDW is flush with empty land and it's good that they're taking advantage of it, but the scale of this design felt all wrong to me. The walkable areas are huge, often more like plazas than sidewalks, but the buildings are pretty squat in comparison. They're probably the same size as their counterparts in Disneyland, but with more room between them, everything takes on the dreaded feeling of standing on a movie set or—worse—in a theme park.
Land design, Disney vs. Universal
The non-wizarding lands at the Universal parks are designed in a style that we call postmodern, which (we suspect?) was a direct reaction to Disney's "traditional" design and a sort of continuation of the less deliberate design of pre-Disney amusement parks. I personally have no love for this style, so keep my bias in mind for this next part, but I found that even when Universal tried something different, like in Toon Lagoon at Islands of Adventure (which is mostly Presentational style, I guess), that it fell flat. Even at its peak, Universal never seems able to shake the feeling of being in a theme park (as opposed to being in the place represented by the theming), while Disney makes this look effortless. Except in the new Fantasyland. I suspect that this phenomenon is 99% subjective and has a lot to do with nostalgia, but that 1% is worth more study.
Dark ride design styles
I was so excited to finally ride the two most highly-awarded dark rides of the last ten years: The Amazing Adventures of Spider-Man and Harry Potter and the Forbidden Journey. Neither one disappointed, and they both flaunt the unprecedented heights of their technology (Google Universal Squinching if you want to read some technical articles).
I was dazzled by both, but it got me thinking about screen-based versus dimensional dark rides: those two rides mostly involve moving vehicles in front of huge projection screens, while "classic" dark rides mostly involve moving vehicles in front of sculptures which are sometimes animated. One approach is closer to film, and one is closer to theatre; there's room for both, but I think the former always comes out at a loss compared to the latter. Again, I'm super biased here, but this is something else I look forward to studying more closely in the future.
Ride vehicles
There are lots of ways to design ride vehicles for a dark ride, from the oldest flat-rollercoaster style to Disney's Omnimovers to Forbidden Journey's robot-arm-on-a-track. Each design has its pros and cons, and I don't have a lot to say here even though it's something I think about a lot. If I had to choose one style, it would be the sideways tram style that proved quite effective for Horizons at EPCOT in the 80s and Futurama at the 1939 World's Fair. Also, there are lots of good and bad ways to load and unload guests from a ride which is something I'll come back to in the future.
More about queues
The post-pre-show queue for The Twilight Zone Tower of Terror stunned me. I'll spare you the ride's backstory (look it up if you're interested), but we're supposed to be in the employee-only area of a large, old, spooky hotel, waiting for a service elevator, and I think they just nailed that feeling. It was way too busy and cluttered to be realistic—access panels and pipes and exhaust vents all over—but it was just elevated enough that it didn't feel fake or forced, either. I only wish that guests walked along the in-fiction floors, instead of a walkway with handrails raised a few feet up, but I assume this was for safety and ease of maintenance and I can't fault it.
Magic Bands
I opted out of the Magic Band (which surprised everyone, including me), because the admission cards serve the same purpose sans a customized wearable, but the tech is just perfect. It carefully navigates the line between convenience and obfuscation, popping up where it's needed and otherwise getting out of the way. The bands and cards use RFID for park admission (combined with a fingerprint scanner) and for entry to FastPass+ lines, both of which are leagues ahead of the older, paper ticket-based system still in use at Disneyland.
FastPass+
Not only is it easier to use FastPass, but the new version also enables reservations in advance, online (and in the decent WDW mobile app). This is included with park admission when it could have so easily been an upsell, and it streamlines away another bit of stress from the planning process. That said, the whole concept of having two lines into an attraction, one for standby and one for scarce priority placement, feels wrong to me. It's not a new idea—the first version of FastPass was introduced in 1999, and all the other major theme parks have offered some variation on the concept forever—but it smells of a missed opportunity. I've been thinking about a system where there is no standby line and everyone is assigned a timed entry window, whether upon approaching the attraction or in advance, and the people in line are only those whose entry window has opened. I don't think this idea is feasible at a large, established park, where queue capacity is a major factor in the design of everything else, but it's something I'd like to keep in mind for my own efforts.
Circle-Vision 360°
I'm so glad I had the chance to catch one of the EPCOT films presented in Circle-Vision 360°, a nine-screen panorama format that Disney developed in the 50s (which was a refinement of various techniques used by various folks since the turn of the century). It's a lot like the 360° VR videos that studios like Within are developing today, but because they make no effort to hide the seams between screens there's this lovely ability to edit by simply cutting to a different shot on a few of those screens. It keeps the immersion of virtual reality without sacrificing classic filmmaking techniques. I'd like to see a VR video that keeps the viewable footage constrained to a narrow strip at the equator of the viewer's sight and leaves some heavy bars between slices of that band. I'd like to produce a VR video that does this.
(Norm Chan has some similar thoughts about Circle-Vision 360° on Episode 384 of This Is Only a Test.)
The Shows
I generally think of the live performances at theme parks as being filler between rides, and I don't think I'm alone in that regard, but a lot of them, especially the Disney ones, are worth admission on their own. There's a Finding Nemo musical at Animal Kingdom with all original music which, if it were stretched out from 40 minutes to two acts, I truly think could make good money on Broadway with no changes to its production design. (No surprise that there are lots of Tony Awards among the show's production team.) I need to think more about how shows work with rides, rather than just killing time and adding park capacity.
On a smaller scale, roaming performers ("Streetmosphere") are a great tool for introducing whimsy and depth to a land. Some of my favorite moments were catching an a capella group on a street corner or a dance troupe in a plaza, or even just Donald Duck waddling down the street. As I entered Animal Kingdom I saw—but nearly missed—a performer on stilts, with crutch-like arm extensions, painted green and wrapped in ivy, ambling around among the trees. There was no IP tie-in, no backstory, no explanation, and it made the whole rest of my day feel mysterious and special.
Guest Experience
Everybody says hi on Disney property. Everybody. It's one thing to be smiling all the time, but that constant connection is another level of joy that also (sadly?) makes the whole experience feel surreal.
This is subjective but for my money, small, frequent, easy decisions ("Do I go on the Nemo ride before or after I look at the aquarium?") are intoxicating. There's no right answer, but there's also no wrong answer, and everyone is going to have roughly the same experience no matter which choices they make, but constantly giving your guests the chance for a bit of agency seems important to remember.
That's about enough for now. More thoughts will probably fall out of my head over the next few weeks as I continue to think about this trip, and I'll share them in future updates while I keep working on Bobby's Birthday. Now if you'll excuse me, I have to browse some Orlando-area real estate.