Getting the Band Back Together
Hi! How's it going? Last week we—what's that? There wasn't an update last week? Okay, the week before—what? The last update was…oh wow. Uh, well, what's happened in the last month? A whole lot actually!
I wrote our last installment on my way to California. While I was there, I rode Guardians of the Galaxy—Mission: BREAKOUT! at Disney California Adventure for the first time. I have complicated feelings about this attraction that we'll get into another time.
When I got home, I found a big beautiful book waiting for me: Poster Art of the Disney Parks, an official and nearly comprehensive collection of…poster art from the Disney parks. It's a beautiful artifact and a wonderful source of inspiration for the new Graveyard Swing poster. Here's a sketchy draft of the thing as it is right now; it needs more color and contrast, but I feel good about this composition:
July was a month to work on the graveyard and skeletons. August is a month to work on the tomb and ghosts. I've changed some of the designs of our jazz band! I was struggling to get enough variety into their characters, and then I realized: these are semi-spectral blue blobs. They don't need to stand flat on the floor. So two of them are going to float. Also, last year's sculptures were too flat; I built them as if they would only be seen from one perspective at long distance, and that's not how it worked out. That's not how I want it to turn out, either. These new ones are totally three-dimensionsal, and so are their instruments.
Here's what we got: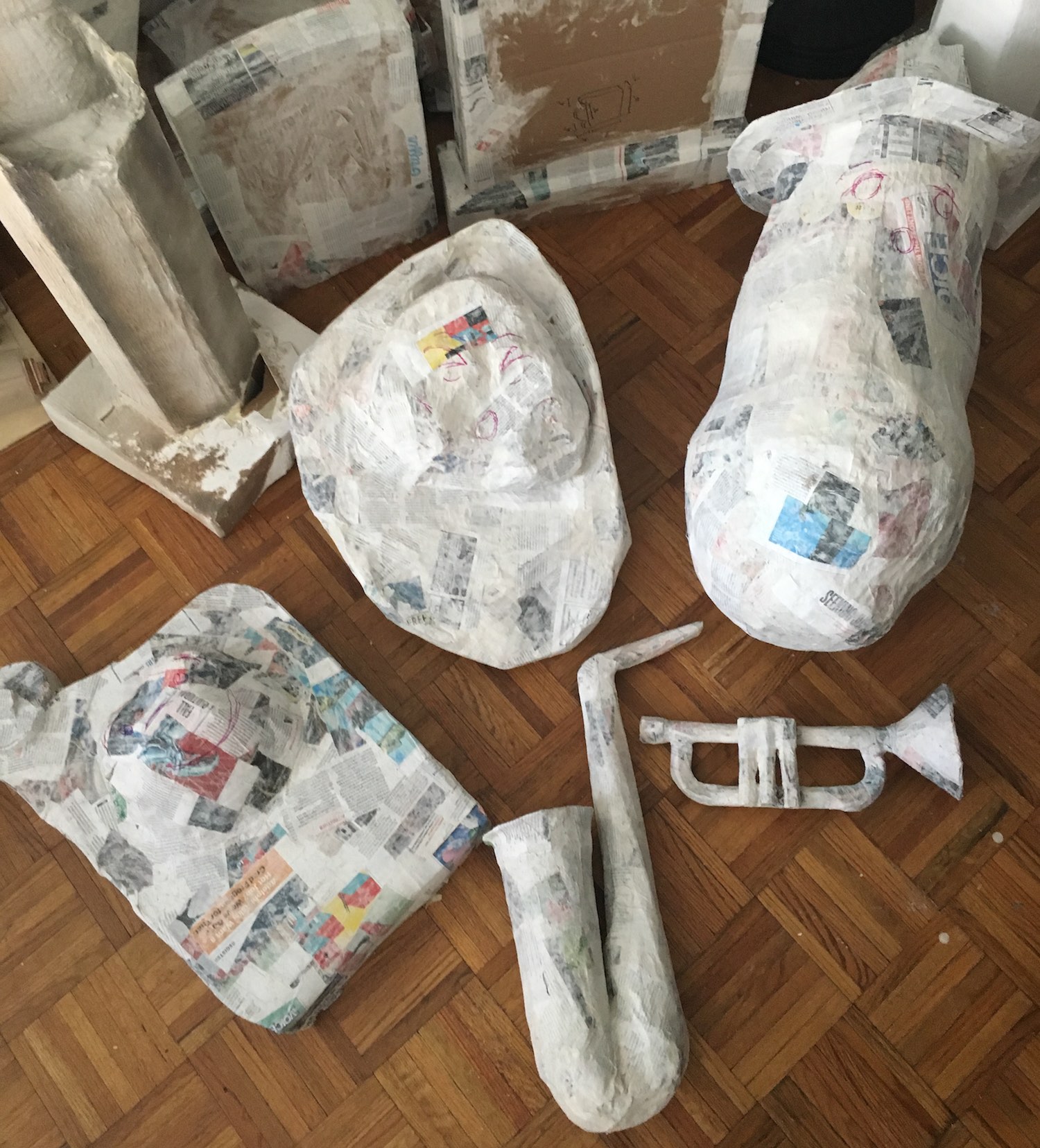 That's the bassist, saxophonist, and trumpeter, along with a saxophone and trumpet. The bassist will use the same bass as last year, and I'm recycling everybody's hands and arms from last year. Still deciding what to do with the drummer, but the old drums are still good.
I've also started arranging the music! Last year I cobbled together two or three minutes of sampled instruments on, like, day three of the run. It was okay, but it wasn't good. This year we'll have about seven minutes of real jazz, baby, based on and interpolating some classic blues and gospel songs. I'm just working with software instruments in Garage Band at the moment but I hope to record the audio on real instruments in time for the show. I dusted off my trumpet. We'll see. Much more on this soon.
It's August 23rd; I hope to have the whole tomb standing by the end of this month. That means getting these ghosts off the ground (but probably unpainted) and building the arches that serve as the background. The chamber these characters are in will physically fit inside my apartment, so I want to construct the whole thing and stand inside it as a birthday present to myself. There's a busy weekend ahead!
If that goes as planned, I switch back to the graveyard for the first half of September, finishing the tombstones and standing up all the skeletons. Then it's painting and tech: rigging the animations, programming the lights, recording jazz, baby, and selling tickets. Tickets go on sale in a month! That's wild and exciting!
See you next week, for real for real!