Disneyland's Virtual Queue
I went to Disneyland this past Wednesday, February 15th. I rode Mickey and Minnie's Runaway Railway, a new dark ride. It was a great experience, but the hours leading up to it were incredibly, unnecessarily stressful.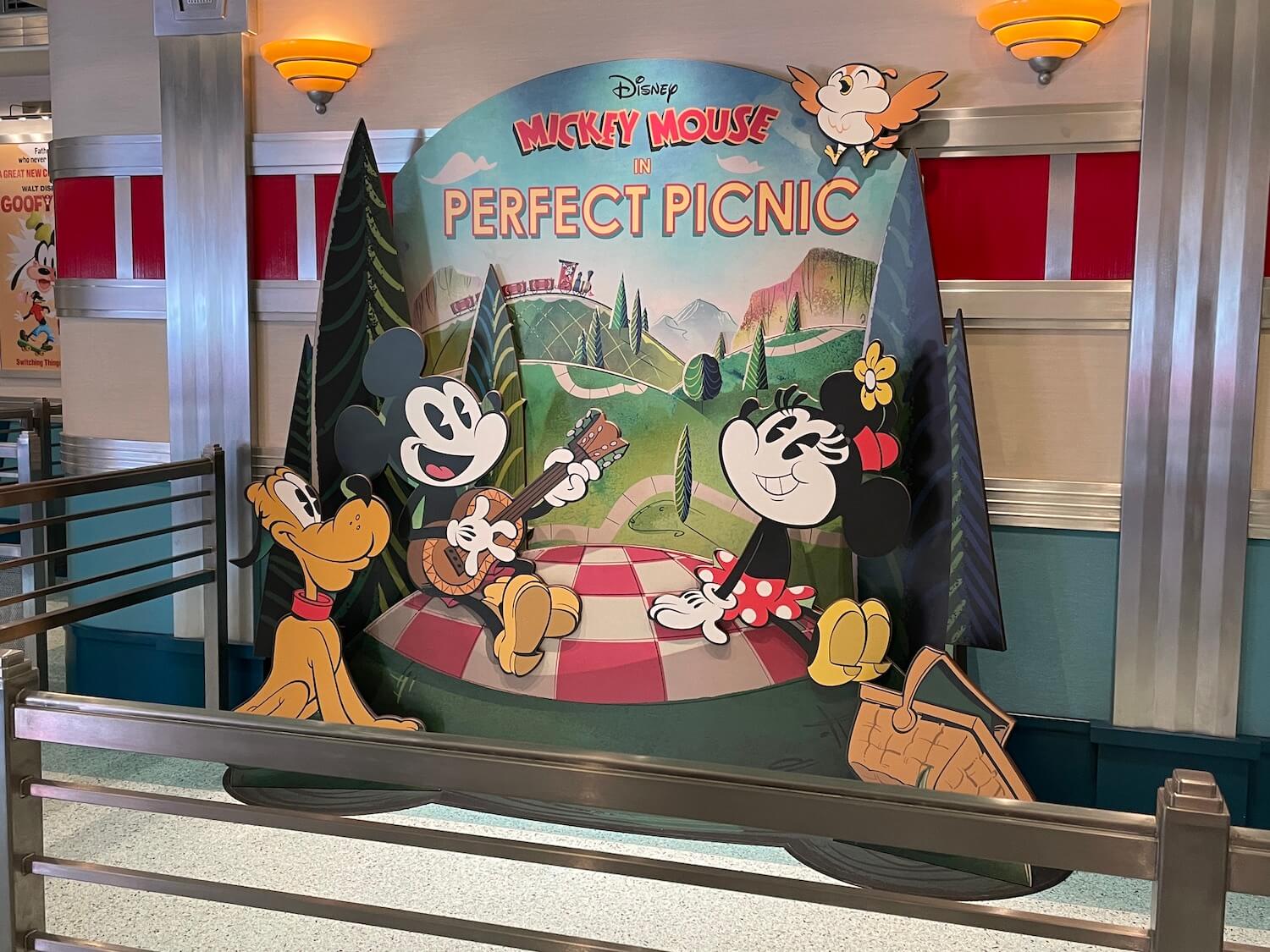 This ride just opened a couple weeks ago and demand is high. It's not currently possible to just walk up to the ride and wait in line to ride it. Instead, the park is distributing places in line virtually through their app.
Every day at 7am sharp, the app releases reservations for the day. If you're quick enough to refresh the app right at that moment and click a button, you'll get a place in line. That place is dependent on how many other people clicked the button before you did. I woke up at 6:30 in the morning—stressfully early for me—so that I'd be ready to claim my spot and leave as soon as I did. I was frantically refreshing from 6:59 to 7:00 and—phew—ended up in Group 9. (How many people are in each group? I do not know. How long does it take for them to run out of groups? Anecdotally it seems like less than an hour, and maybe even much less than an hour—just minutes. But I don't know.)
The park opened for the day at 8am. With rush hour traffic, it would take me right around an hour to get from my home in Los Angeles to the park in Anaheim. I wanted to wait to depart until I had my place in line, so that I wasn't distracted on the road and would be near my computer in case things went wrong and I needed to troubleshoot. (In retrospect, there's nothing I could have done at home if things went wrong.) With Group 9, my estimated wait was 95 minutes. Was that 95 minutes from right now at 7:01am, or 95 minutes from when the park opens in 59 minutes? Unclear.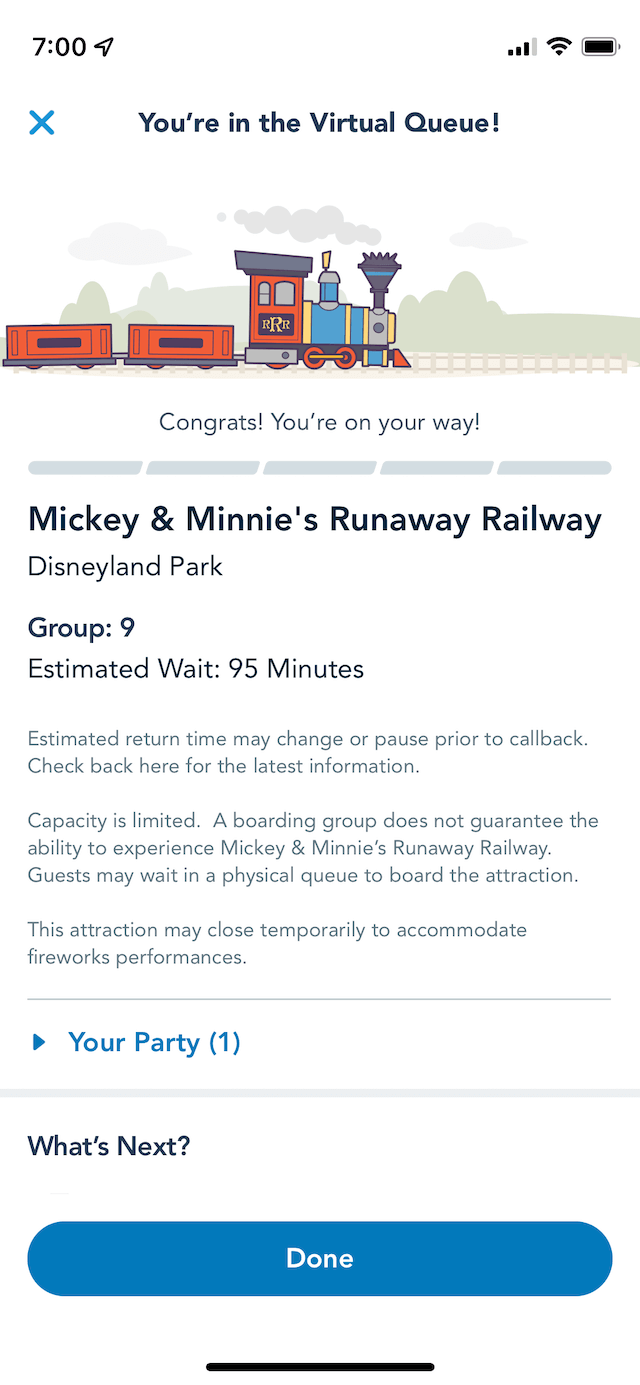 Some help text somewhere said that I'd get a push notification when my group was called, and I'd have an hour from the time my group was called to get to the attraction. Was that hour included in my 95-minute estimate, or would it be 95 minutes until I was cleared for entry and then an additional hour to arrive? Unclear!
Once I descended from this first peak of anxiety, boarding group assignment in hand, I got in the car and headed out. My trip estimate had risen from 50 minutes when I checked first thing in the morning to 65 minutes now. I figured I was still doing fine. It's time to go to Disneyland! What a treat!
A little after 8am I got a push notification. My boarding group has been called; please be at the ride by 8:45. I was still in traffic, nearly half an hour out. There was nothing I could do to get there faster. I had prepaid for parking, which could theoretically save me a little time, but I had no idea how long parking, security, and traveling from the parking lot to the park entrance would take.
At 8:39 I was out of the car and walking to the trams that would take me to the park. On previous trips I remembered this tram as a contemplative, almost thrilling introduction to the Disneyland experience. It's the first ride of the day! This time, though, while waiting for the tram to pull up, I was box-breathing, trying not to think about what I'd do if I couldn't get on this ride. It was one of the primary reasons I had planned this trip. I bumped my head getting on the tram.
Runaway Railway is located in Mickey's Toontown, way in the back of the park. I tried my best to enjoy the cinematic entrance to Disneyland, under the train station's arches and onto Main Street, the grand reveal as Sleeping Beauty Castle slides into view. But I was stressed. I thought about running.
Before I even got to the entrance to Toontown, the app said my boarding window had closed. The bright blue button was now gray. Thankfully I still had access to the pass with a barcode on it. It said "Arrive by 8:45" and the clocked rolled over past 9 as I approached the front of the ride. I held out my phone for the Cast Member to scan, pretending I just hadn't noticed. In my head I was rehearsing what I'd say if I was turned away—trying to balance courtesy and disappointment, the perfect mix to encourage this person with the scanner to bend the rules and let me in, I was just a little bit late.
Thankfully I didn't need to try that speech. They scanned me, I got in line—the physical line at the end of the virtual line—and I had just a few minutes to enjoy the building's decorations and relax, so I could be fully present. The ride was great.
How close did I cut it? Was I supposed to still be able to access my boarding pass? Was that a bug in the app? If the scanning Cast Member was paying closer attention or feeling less charitable, might I have been turned away? Did the scanner tell them my pass was expired, or I am assuming too much sophistication in this system? I don't have answers to any of these questions.
Of course, let's take a moment and recalibrate our perspective: I was nearly hyperventilating at the thought of not getting to go on a theme park ride. I know, it's silly. If it didn't work, they do it all over again at 1pm and I would have had another chance. There is the option of a paid upsell with a lot less demand that would get me onto the ride for another $25—a drop in the bucket compared to what I already paid to get in to the park, and what I'd probably pay for food and snacks throughout the day. Even if I missed that second opportunity and didn't want to pay more, I was still in Disneyland. There was plenty to do and see, and even plenty of other rides and experiences I had never seen and could try for the first time. My problem isn't that I maybe almost didn't get to ride the ride. My problem is that all the stress feels so avoidable.
What problem are we trying to solve
I have no special insight, but this is a blog, so let's make some wild speculations. Disney has instituted a virtual queue for this ride because they expect the demand is dramatically higher than the number of people they can fit in the physical queue. They don't want people lining up all the way out the door and onto the sidewalk, whether for logistics or safety or optics. They've decided that a guest who is dissatisfied because they couldn't get into the virtual queue—or didn't know about the virtual queue—is preferable to a guest who is dissatisfied because they waited five hours in a physical queue. The guest waiting virtually, or who didn't get the chance to wait, is still there, and they'll buy popcorn and soda and merchandise. They can't do that if they're standing around in the sun in Toontown.
Let's say that's all true, and let's even assume all of that is reasonable. Given that problem, what solutions do we have? Are there any that are better for the guest than what's currently implemented, without having a negative impact on the shareholders? Do not forget about the shareholders.
I think there's a better system. First of all, since reopening after the birth of COVID-19, Disneyland requires a reservation in addition to the purchase of an admission ticket. Officially this is to better predict and reduce crowds; realistically it's probably to cut their labor costs, which were criminally low even before the pandemic started. But now we have this system, which means it's impossible for anyone to drop in to the park without at least a day's notice. Fine. When a guest makes their park reservation, why not allow them to make a reservation for this ride, too?
I was already planning to get to the park very early in the morning. I was traveling solo for this trip and wanted to make the most of it, wandering to and fro at my own pace. But what if I, or some other member of my party, couldn't or didn't want to get there so early, but still wanted to ride this ride? It's kind of impossible to plan for. You can wake up at 7 and try your luck, try your luck again at 1, or maybe have the opportunity to pay even more money. Why are we dealing with these ticket drops? Why is it first-come, first served? And why 7am?
I'd love to see the business case for not making the queue a lottery. I can't imagine why it isn't. In my ideal scenario, I could provide a rough preference of when I get to ride—morning, afternoon, evening—and everyone that wants to ride gets scrambled up into some order. The night before my day in the park, I am told exactly when it will be my turn. I can sleep well, knowing that part of my plan for the following day is already in the books.
Interestingly, what I've just described is how FastPass+ used to work at Walt Disney World, pre-COVID. It was an awful system that lead to much higher overall wait times for everyone. If you want to know more about that and have a couple hours to spend, I'll recommend Defunctland's documentary on the topic. But what we're talking about here is different—this isn't a way to skip the standby line; this is the only line. So I would gladly take a longer wait for more peace of mind.