All of the Lights in the Magic Kingdom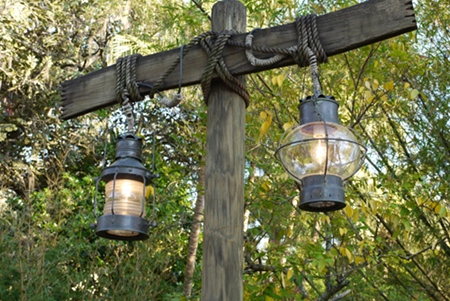 Here's the first of undoubtedly many times I'll be referencing one of my favorite blogs: "All the Lights of the Kingdom" from Passport to Dreams Old and New. The author, who goes by FoxxFur, is the best source of information I know on themed attraction design theory. She writes almost exclusively on work in the Disney parks, but that makes sense, because no one else has yet found the (energy? inspiration? motivation?) to do what they do1.
On Monday we're going to look quickly over the whole history of this art (or at least as much as I can manage to write), but for some real deep scholarly investigation, Passport is the place to be, and this is where we'll start. In two installments (the second is here), we're taken on a tour of the Magic Kingdom, hopping from one light fixture to the other, and with just the slightest bit of attention, we quickly and clearly see the amount of care involved in these choices. The Magic Kingdom is broken up into many "lands," each with a very distinct theme, but they all butt up against each other and the transitions are smooth. (Here's a map if you're not familiar.) The architectural styles, the materials used, even the scale of the props changes in relation to the little piece of the world they belong to, and all the plans are illuminated by those lights.
Take a look! And if this breakdown is too dry for you, don't worry: I have many more Passport recommendations lined up on my syllabus.